Outdoor Lighting for Your Party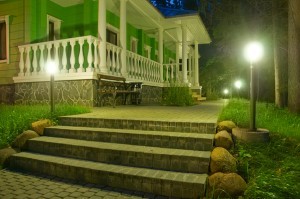 Planning for an outdoor party can be a lot of fun, especially when it comes to lighting up the space with outdoor lighting options.
Party lighting has come a long way over the centuries. Long ago, candles, lanterns, and torches were the only lighting available for outdoor parties. Most often, candles were used, and even today many people still love using them for weddings, romantic occasions, and parties.
Lighting up the outdoor areas when gathering for fun creates an atmosphere that's warm and inviting. You can create an original, unique atmosphere for guests that will set the mood for the party.
There's something about hanging lights that speaks to our hearts. Floating candles, paper lanterns, and more turn your outdoor gathering into something really special.
Original outdoor lighting included lanterns that were hung on strings of wiring or rope, and were draped around the outdoor areas at a height several feet above head level.
With the invention of electricity, everything changed, but not that drastically. Party lighting still took on the form of stringed lighting, but now light bulbs were used, then finally clear globe balls. In fact, today you can still get vintage party lighting consisting of the clear round globe bulbs that replicate the old party lights.
Today, a whole new world of technology has hit the market in LED lighting applications. Party lighting of today has taken on a whole new meaning and form.
If you've ever seen a concert on television or been to one live, you've seen how LED lighting and other methods are used to create spectacular light shows that light up the night sky in a rainbow of colors.
You can get party lighting that creates different effects such as Moonflower, Beam, and DMX. Disco lights were one of the first LED lighting options available for parties and are still used today. You can also find black lights, laser lights, and strobes for your outdoor lighting options.
Even more options include paper lantern lights, solar powered lights, remote control lights, color changing lights, fairy lights, rave lighting, orbits, and more.
Special effects with outdoor lighting have become a part of many professionally planned outdoor parties. A combination of lighting sources are used to create shows of light that enhance certain aspects of the area. Special effects can mean changing of colors, streaming light patterns, spot lighting, and more.
LED lighting is the new phenomenon for both outdoor and indoor lighting. Imagine with just a touch of a button, you can create an entire light show yourself. Light up LED gloves, sticks, wands, bracelets, headbands, fiber optic hair clips and a number of other party favors are on the market.
If you are looking for an Aiken plumbing, electrical, heating and air conditioning then please call 803-649-3516 or Augusta plumbing and electrical service then please call 706-868-6661 or complete our