3 Great Reasons To Get An Annual Furnace Tune Up This Fall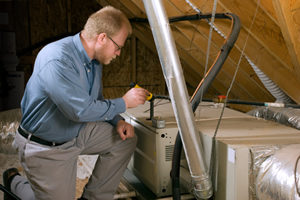 Now that fall is in full swing, and with winter just around the corner, now is the time to make sure that things are in order around your home to ensure you and your family's safety and comfort over the coming months. While there are no doubt plenty of things left on your list to get done, if you haven't already taken care of it, you should make sure that you add getting your annual furnace tune up to your list. With so much on your plate already in preparing your home for the upcoming holiday season, it can be very easy to just write off getting your furnace tuned up until later, but doing so is a surefire way to set yourself up for disaster. The winter months are a particularly rough time for your home's furnace. Since your furnace is basically going to be running almost nonstop once the temperatures start to drop further, it is going to be experiencing a great deal of wear and strain in order to keep your home at the level of comfort you and your family expect, and all of the system strain and wear can make itself known in a number of different ways, and none of them are anything you want to find yourself dealing with in the middle of a cold winter night. To help highlight the importance of getting an annual furnace tune up in the fall, before the winter chill sets in completely, our team of professionals have taken the time to put together this short list that we hope will show you just why these fall tune ups are so important, and what you stand to gain from investing in one.
Reduce Frequency Of Breakdowns
When the temperatures start to drop lower and lower in the coming months, it's safe to say that the last situation you want to find yourself in is a position where you and your family are stuck without heat in the middle of a cold night because your furnace stopped working entirely. Unfortunately, this is a sad reality that many homeowners all over the country find themselves facing, and it is largely preventable if you only take the time to have your furnace professionally tuned up in the fall. The simple fact of the matter is that a furnace that doesn't get the annual maintenance it needs is that much more likely to experience problems in the winter, and these can range anywhere between mild to catastrophic. Don't take chances with your family's safety. Schedule your annual fall furnace tune up today and make sure your system has the care it needs to keep you and your family comfortable all winter long.
Lower Your Energy Costs
If it has been a while since your home's furnace has received any kind of professional maintenance, you could very easily find yourself paying a great deal more than you need to this winter in energy costs to heat your home. Taking the time to get your system its annual tune up this fall, before it has to go into heavy use during the winter, will ensure that your system is fully cleaned out and able to operate at its most efficient. Having an efficiently running furnace will not only ensure that your system doesn't suffer from any additional strain, but it will also go a long way in helping you save on your monthly energy bills as well.
Keep You & Your Family Safe
As you are no doubt aware, furnaces use a combustion process to produce heat and then distribute that heat around your home. Because a combustion process is involved, it is imperative that you take the time this fall to ensure every part of your system is operating safely, and your aren't putting your health or that of your family at risk by running your system. Even the smallest issues with a furnace can sometimes lead to very serious risks, but by getting your furnace professionally tuned up this fall, you can have peace of mind that any and all issues within your system have been professionally taken care of and that you and your family will be able to rest easy this winter in safety and comfort. Call Southern Plumbing, Electrical, Heating & Air today!
If you are looking for an Aiken plumbing, electrical, heating and air conditioning then please call 803-649-3516 or Augusta plumbing and electrical service then please call 706-868-6661 or complete our